VBA First Macro
---
Open the VBE (

+

) and create a module (as described in VBA VBE Editor).
To understand how a VBA code works, copy the text below in the Code Window while the newly created module is selected in the Project Explorer ("Module1").
Sub HelloVBAWorld()

    MsgBox "Hello VBA World"

End Sub

Your Code Window will be like this: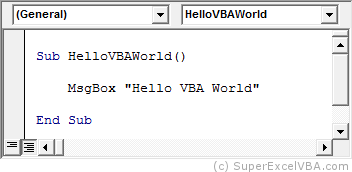 With this we have a macro called HelloVBAWorld which, when executed, sends the message "Hello VBA World" to the user.
---
In the Code Window, click anywhere between the beginning of the subroutine (delimited as

Sub

) and the end of the procedure (delimited as

End Sub

)
Click Run Macro

on the Toolbar(or press )


When running, the following text box should appear: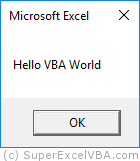 The MsgBox feature is widely used to leave warnings to users, whether running a routine, for example, or running a Workbook_Open event.
---
About the Subroutine
The abbreviation Sub stands for Subroutine.
Sub indicates to the VBA where the code starts while End Sub indicates where it ends.
Sometimes we will omit the Sub start and end declaration to highlight content:

Omiting the Sub declaration

    MsgBox "This is an example"



Showing the Sub declaration

Sub Example()

    MsgBox "This is an example"

End Sub


The code should always be contained within a

Sub

and

End Sub

to run (unless it is contained between a

Function

and

End Function

for example, but we will see this later).
---
Naming a
Sub
All Sub needs to be followed by a name (in our example above, the name is "HelloVBAWorld").
The name must comply with the following rules:
It must initiate with a character from the alphabet
It must not contain special characters, such as: #, $, %, &, !
It must not contain whitespace characters, dots or commas
It must not be a VBA reserved word like:

And

,

Or

,

Sub
At the end of the name, there must be parenthesis"()".
Type Sub, the name of the macro and press the Enter key, the VBA will automatically add the "()" and the End Sub.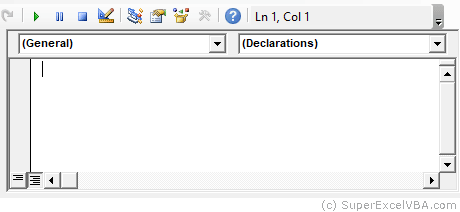 ---
---
Consolidating Your Learning
Suggested Exercise
---
---